Will James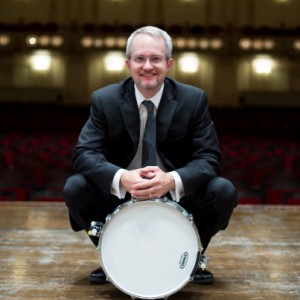 Principal Percussionist, Saint Louis Symphony Orchestra
Will James Says…
"Grover Pro has been the leader in custom drum building for many years, so when I had some ideas for a custom 4-inch drum, they were clearly my first choice. Grover Pro incorporated their new ITaP technology and I was blown away with the versatility of the drum. I couldn't be happier with the result!"
—Will James, Principal Percussionist, St. Louis Symphony
Will James Recommends…
About Will James
William J. James is the Principal Percussionist of the Saint Louis Symphony Orchestra. He won the position at the age of twenty-five while a member of the New World Symphony in Miami Beach, Florida. He graduated from New England Conservatory with a Masters of Music and was a student of Will Hudgins of the Boston Symphony Orchestra. Will received his Bachelor of Music Degree from Northwestern University. While attending Northwestern, he studied with Michael Burritt, an active soloist and clinician throughout the country, and James Ross, a member of the Chicago Symphony Orchestra.
Will has played with many outstanding ensembles including the Boston Symphony Orchestra, Chicago Symphony Orchestra, North Carolina Symphony, San Diego Symphony, Chicago Civic Orchestra, Tanglewood Festival Orchestra, and Chautauqua Festival Orchestra. In addition to his experience as an orchestral player, he has performed several solo recitals across the country as well as soloing with the Saint Louis Symphony Orchestra and the New World Symphony. Will has continued his career as a chamber musician in Saint Louis. He is a regular artist performing with the Pulitzer Foundation Chamber Music Series and plays in a Percussion and Piano Duo with Peter Henderson.
Will is a very active educator in the percussion community. He is the Guest Lecturer of Percussion at the University of Missouri. His book The Modern Concert Snare Drum Roll has been met with critical acclaim as a much needed resource for both teachers and students. Will's video series The Repertoire is an incredibly ambitious project to record the entire standard audition repertoire with accompanying tutorials for each performance. He has a studio of local students in Saint Louis and has given countless masterclasses across the country at numerous colleges, summer festivals, Days of Percussion and universities; teaching the next generation of great percussionists.
Will is very involved in the Percussive Arts Society (PAS). His articles have been published in Percussive Notes, the PAS periodical, he has presented at many PAS International Conventions, and is currently serving on the PAS Symphonic Committee. Will proudly uses Zildjian Cymbals, Malletech Sticks and Instruments, Evans Drumheads, Grover Percussion Instruments and Beetle Percussion Products in all of his musical projects and performances.
A native of Raleigh, North Carolina, Will visits the Old North State often, where he takes advantage of free grandparent childcare in order to play golf or stare at the ocean. Will met his wife Stephanie, an attorney, when he moved to St Louis. They both welcomed their daughter Cate into the world in 2015 and son Joe, in 2017. When time permits, they pay attention to their lazy dog Buck.